Disclaimer: These are our personal recommendations from working with hundreds of athletes and are subject to change, if you are not sure please consult your specific federation directly.
W B F F
As a Sponsor of the WBFF, Glam Fit Bikinis take great pride in our beautiful designs that we create exclusively for WBFF Australia. Our competition bikinis set the trend and comply with WBFF standards and regulations. There aren't many rules or regulations as such when it comes to your overall WBFF competition bikini design, giving you the creative freedom to wear any design your heart desires! The general rule is the more bling, the better! WBFF is a truly spectacular, red carpet event—think, a combination between Miss Universe, Victoria's Secret Angels and Bodybuilding!
As a WBFF Fitness or Bikini Diva Model, you will be judged on your sense of style, poise, overall beauty and stage presence. You will need a bodybuilding bikini that is creative and glamorous as well as complementary to your physique. WBFF want a fit physique as well as overall beauty and stage presence, so it is important to make sure that your bikini is not only beautiful but also works with your individual physique. We work hard to make sure your competition suit fits like a glove and shows off all your hard work! Our original Bombshell Diva cups are perfect for WBFF competitors as they create the perfect balance between cleavage, support and fashion.
 We work hard to create unique, one-of-a-kind couture pieces that are designed to catch the judges' attention and set you apart from your competition. Our couture bikinis will require you to contact us and work closely with our team during the design process. As well as our couture bikinis, our popular and original Diva Designs such as our 'Lauren Pro' design are ready to order from our website. You have the freedom to create your bikini with any colour and crystal combination so you can have your bodybuilding bikini exactly as you dreamed!
IFBB
We are very proudly the preferred bikini supplier of the IFBB Pro League Australia!
Glam Fit Bikinis set the trend and are the original designer of the Euro Cut bottoms in Australia, which is fast becoming the preferred style of IFBB Bikini and Fitness competitors. Inspired by European IFBB Pro competitors, we designed the Euro Cut bottoms to sit high on the hip. This elongates the leg and makes your glutes appear more shapely. The bikini bottoms also feature a scooped front to flatter and elongate the torso. 

IFBB Australia does not have any fashion-focussed rounds and prefers their bikinis to be more subtle in terms of design. IFBB bikini and fitness athletes have beautifully embellished bikinis. Our Glamazon designs are most popular with IFBB as they provide lots of bling to stand out and bring your bikini to life without distracting from your physique.

We understand that your competition bikini is a vital component in your overall presentation and, ultimately, your placing. The Glam Fit Bikinis team is ready to work with you to discuss colour, style, size and embellishment to ensure your competition suit is perfect.
ICN
GlamFit Bikinis is a proud sponsor of ICN here in South Australia. ICN Bikini and Fitness competitors have free choice when it comes to their competition bikinis. You have the freedom to custom order any bikini in any colour, design and style, just as long as your suit cut is tasteful and does not detract from your physique. Glam Fit Bikinis makes hundreds of competition suits each season for ICN Bikini, Fitness and Figure competitors, so rest assured that we will create you the perfect bikini! 

ICN wants their bikini and fitness models to be judged on 'the whole package' so it is important to have your bodybuilding bikini complement your features and suit your body type. We can create an unique bikini and make you stand out from the rest! Whether you want your bikini to be a little more fancy like our Couture Designs, or if you want to keep your bikini more simple in style, we are here to help you look your best!

For ICN Bikini and Fitness, we always recommend ordering a competition suit with bling, keeping the bling within a happy medium and avoiding lace straps and chains. If couture is more your thing, ICN also has an 'Angels' category which allows you the freedom to add as much bling as you want to your bikini. ICN Angels are more fashion-focussed and is intended to let your inner Victoria's Secret Angel shine! As your bodybuilding bikini needs to be glamorous, our Diva Designs are perfect for this round. You can custom order any Diva Design in any colour, style and colour combination so you can create a unique bodybuilding bikini with the 'wow' factor.
FIGURE
Just like our standard bikinis, we can custom make any design in a figure suit, and also can design something completely custom for you. When you work with us, we can assist you in creating your dream figure suit design, and we have a range of options to suit different preferences, federation guidelines, and budgets.
Our Figure suits come with a criss-cross back and a deep V-Cut bottom. The most popular choice is to have all fabric brief connectors. Our figure suit bottoms are not scrunch bum to sit flat across the glutes, however we can provide a scrunch bottom upon request. We recommend a Slider cup to prevent any gaping during your side-chest pose. If you want to give the illusion of a fuller bust, our Sweetheart Moulded cup can enhance your shape especially with extra padding.
WELLNESS
The classic V-shape and high hip design of our Euro cut is recommended for Wellness competitors as it accentuates a small waist and full glutes. The traditional all fabric hip connectors is still seen often, though you have the option to rock a brief with rhinestone connectors and you will not be scored any differently if you choose to compete in this suit bottom. You will see European wellness competitors lean towards the 'bra style' Bombshell Diva cup, but here in Australia our Sweetheart Moulded cup is more popular. Please see your federstion's guidelines for how much glute coverage is required.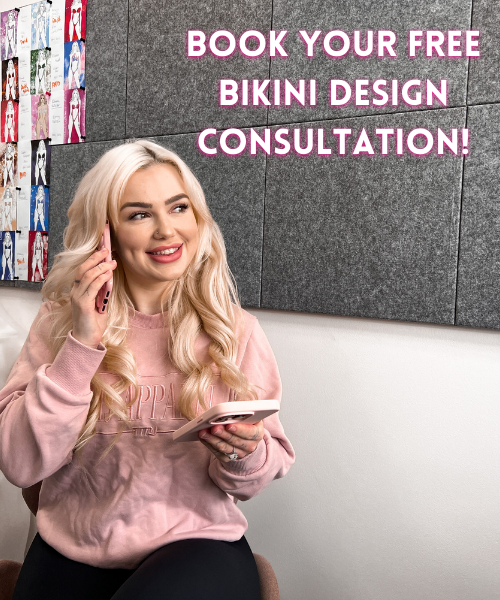 Need some help?
Get in touch with us today and recieve top-tier, personalized advice tailored specifically for you.
With our experience both as competitors ourselves, and working closely with federations all around the world, we have first hand knowledge of what it takes to succeed at even the highest levels!
Book a complimentary Zoom call now!
Lets Chat!